Home
Calendar
Contact Us
Hire Us!
History
Join Us!
Members
Photos
Repertoire
Support
Uniforms
Links
E-mail
Phoenix Scottish Pipe Band
Jan Markham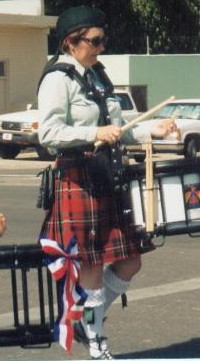 Jan played Tenor Drum for Mesa Caledonian from the early 1980's through the early 90's and studied snare drumming under David Hossack. She also competed very successfully in Scottish Highland dancing through this period. She returned to Mesa Caledonian in 1998 and played Tenor in competition until 2001. In March 2002 she joined Phoenix Scottish as a snare (and tenor) drummer.

When not drumming, she attends to the needs of her two show horses, Fernando and Jimmy.